This new property has been experiencing a minor identity crisis, prompting us to host a naming party last week. We appreciate everyone who came out and for your valuable input. We are so excited about this new location, for the future, and for the endless possibilities this venue holds!
Stay tuned as we unveil the chosen name and provide further details. Your continued support and interest are highly appreciated.
Spring is in the air and we are planning how to celebrate our favorite holiday–National Rosé Day on Saturday June 10th! Come join us at Victor's Seafood & Steak for Bouquets & Rosé! This event promises to be an unforgettable experience, offering the perfect combination of delectable wine and beautiful customizable floral arrangements.
Bouquets & Rosé is the perfect opportunity to savor a variety of rosés and learn the art of bouquet making from the experts at Boone's Blooms. With their expert guidance, you'll create a stunning bouquet of flowers to take home and enjoy long after the event is over.
Tickets include small bites, rosé flights and your bouquet to take home and enjoy! On sale at — $80 for early purchase and $90 for regular sale.
Whether you're a rosé lover or just looking for a fun and unique afternoon, this event is the perfect opportunity. The beautiful ambiance of Hutson Alley and Victor's, along with the floral expertise of our friends with Boone's Blooms makes this an event not to miss this spring!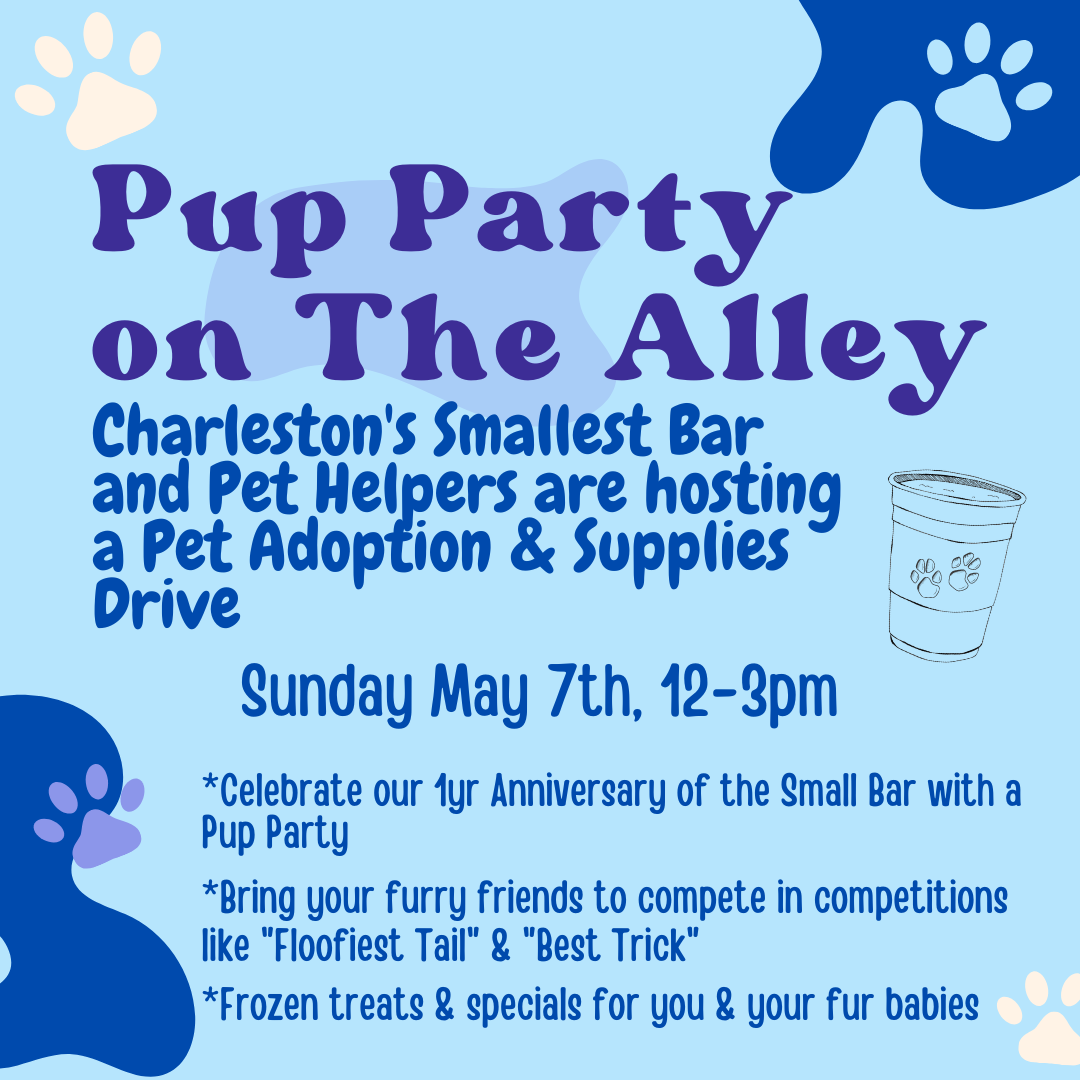 Charleston's Smallest Bar and Pet Helpers have teamed up throw "Pup Party on the Alley". Join us for a pawsome event centered around dog adoption and a pet supplies drive! This event is designed to bring together animal lovers and enthusiasts to help local dogs in need.
This event will be held on Sunday May 7th from 12-3pm outside of Charleston's Smallest bar on Hutson Alley (39 John St.). All are welcome, especially your fur babies!
We will have specials on food and drinks available–for you and your pup. We will also be handing out prizes for the best boys and girls for things like, "best trick" and "best puppy dog eyes"
Don't miss out on this chance to make a difference in the lives of dogs in need. Mark your calendar and come out to support this wonderful cause!
Charleston's Smallest Bar Cornhole Tournament
Cornament?? Courney?? You can call it whatever you want because we're hosting our 1st ever Cornhole Tournament at Charleston's Smallest Bar! Bring your friends and get ready to show off your skills! Join us Wednesday March 15th at 6pm at the Small Bar for the can't miss competition. Coast Bar and Grill will have steamed oyster buckets available! Participants must enter in pairs, the buy-in is $10 paid to bar before the competition starts. 
1st prize is a $100 gift card to any HCH restaurant 
2nd prize is two small bar t-shirts 
3rd is your entry fee returned 
The Historic Rice Mill best venue 2023
We are proud to announce that the Historic Rice Mill won best venue for 2023! The WeddingWire Couples' Choice Awards® recognize local wedding professionals who demonstrate excellence in quality, service, responsiveness, and professionalism. Winners are determined by the reviews from more than one million WeddingWire couples. Thank to everyone who voted, we appreciate all the support we've received.
The Historic Rice Mill wins best venue!
We are proud to announce that the Historic Rice Mill won best venue for 2023!
39 Rue De Jean Chef Marcus Shell Sewe Cooking Demo
Certified SC returns to Marion Square with a tent featuring the Palmetto State's finest specialty food vendors and the Fresh on the Menu cooking stage, where South Carolina's most talented chefs team up with their favorite farmers for a weekend of demonstrations and tastings showing why South Carolina is one of the best states in the nation for food-lovers.
Dry January Dinner with Spiritless Cocktails
39 Rue de Jean is excited to host a 4-course dinner on January 19th, partnering with Spiritless Cocktails. January is the perfect month for a reset for those who choose to cut back on alcohol consumption after holiday indulgences. This dinner will feature 4 courses, paired with 5 alcohol-free cocktails from Spiritless.
Representatives from Spiritless will be hosting this dinner alongside the Rue de Jean team, and will be there to answer any questions, and offer suggestions to those hoping to maintain or experiment with a "dry" or "damp" lifestyle.
Midnight at the Rice Mill
Historic Rice Mill is excited to once again host Midnight at The Rice Mill. The event will be complete with music from DJ Moo Moo, delicious cuisine from Good Food Catering, an all inclusive bar, a 360° photo booth, and a midnight champagne toast. Dance the night away and ring in the New Year at the Historic Rice Mill overlooking the Ashley River and enjoy an upscale, celebratory affair.
All Holy City Hospitality locations participate in restaurant week. The Chefs get the opportunity to create a unique coursed menu which allows guests to get a taste of what each restaurant has to offer!
Taste of Hutson Alley Recap 2022
It had been too long since our event on the Alley! Our November event was centered on giving our chef's from each restaurant the opportunity to show off their creations. The celebration took place among the lanterns and under the lights of our beautiful alleyway with chef-attended stations from all six Holy City Hospitality restaurants and dessert samplings from Good Food Catering.Guests were greeted at the John St. entrance to Hutson Alley and offered samples of Charleston's Smallest Bar's Hutson Alley Hooch. Attendees were welcome to enjoy a specialty cocktail featuring Tasmanian Pure Vodka, craft beer from Commonhouse Aleworks, wine from Republic National Distributing Company (RNDC), and live music from Ronnie Johnson. Despite the chill, guests danced under the lights to classics performed by Johnson. As well, many were huddled inside on the plush couches in Victor's.