When you're planning a wedding, it might feel like you have one million tiny details on your mind at any given moment. Wondering if your wedding caterer is going to provide the service that you expect on your special day should not be one of them. To stave off those worries, Good Food Catering has compiled a list of questions to ask your wedding caterer before you make a hiring decision.
The Basics: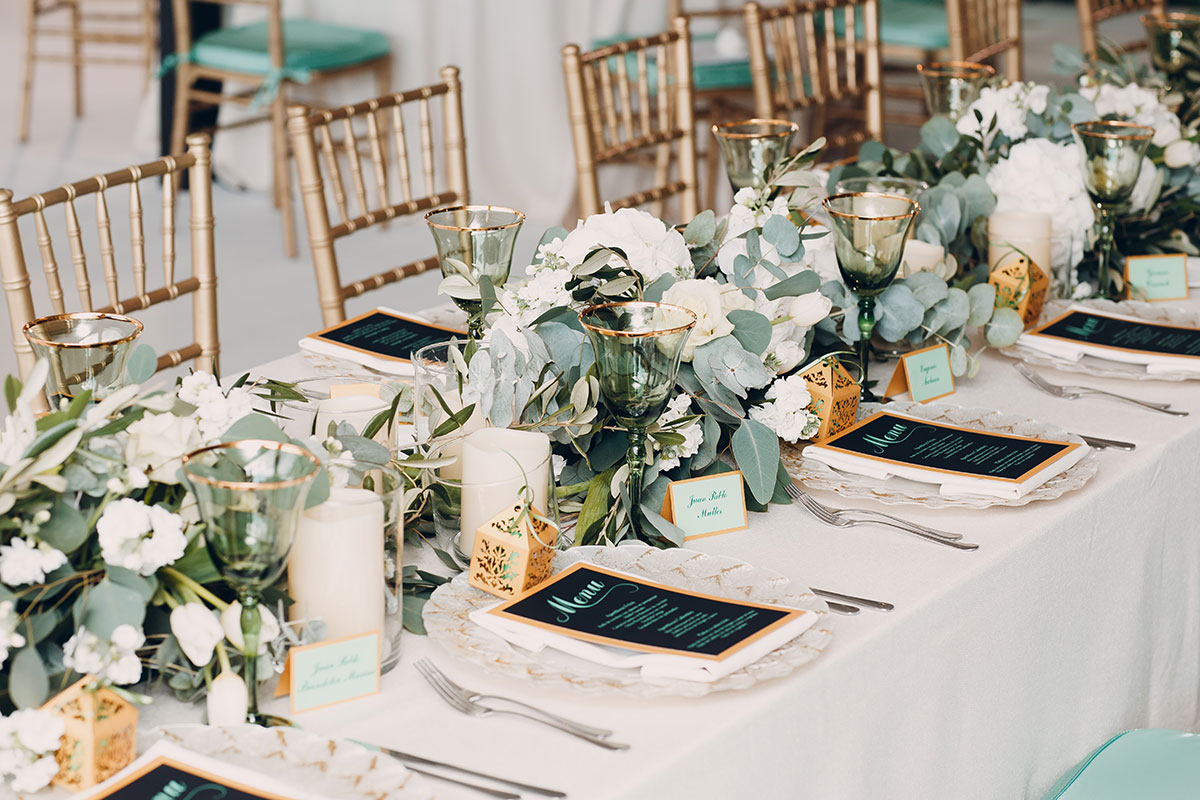 Do you have my wedding date available? If you already have your wedding date set in stone, there's no point in hiring a caterer who cannot accommodate it. Check this question off as early as possible.
Do you have a catering license and a liquor license? Having a catering license means that your catering company has met health department standards and has insurance. Not all weddings have a bar, but if yours does, be sure that your caterer has a liquor license and liquor liability insurance.
What is the number of weddings that you cater per year and how long have you been in business? In general, more years of experience catering more weddings will mean that the catering company can better handle unexpected (and expected) events. Everyone starts somewhere, so do not immediately discount younger companies, but length of time in service is something to consider.
Have you catered events at my venue before? If they have, they should have a better idea of what to expect and know about any challenges that your particular venue may have.
Do you have references from previous clients who had a similar event to mine? This question has two parts. First, do they have references that they are willing to share. Every catering company should have a few. Second, did these references have comparable events? Catering for a guest count of 400 is much different from one of 20.
The Timeline:
Do you offer tastings before being hired, and if so, is there a fee? The company may have rave reviews from past references, but you're the one who is going to be eating the food at your event. Ultimately, your opinion is the one that counts. Find out if you can taste the food beforehand and what that service will cost.
When do you need a finalized list of food choices? You can use the answer to this question to determine your RSVP date.
How much time do you need for setup and breakdown? Depending on how much time is needed, you may need to alter when you have booked the venue or the allotted times for events within the wedding day.
The Food:
Do you create custom menus or do you only provide preset selections? If you have a special dish in mind, make sure your wedding caterer can deviate from a set menu.
Can you accommodate special diets? If you have guests with allergies or those who follow specialized diets (kosher, halal, vegan, vegetarian, etc), ask if your wedding caterer can adjust for those guests
Do you have a food specialty? Some caterers pride themselves on their use of locally sourced foods or their menus featuring Southern cuisine. If you also have a specific theme in mind, it's a good idea to choose a caterer that specializes in that sort of food, or at the very least, has extensive experience with preparing it.
Do you provide wedding cakes? Not all caterers bake the wedding cake or offer dessert tables. If this is something you want, ask if it is something they will do.
Will you prepare meals for children and other wedding staff at my event, and if so, will those be at full price? Children will not always want the same food as adults, and your wedding professionals need to eat, too. Ask if your caterer can adapt the menu for children and see if those meals will be at the same price as everyone else's.
The Service:
Do you provide full service catering? If not, you may need to hire other wedding professionals.
Do you provide the tables, chairs, napkins, plates, and other necessary items? Not all wedding caterers will provide these things, and if they do, you need to make sure the items are to your liking. Some wedding caterers will use plastic plates and utensils by default, which may or may not align with your vision.
How many servers are included? If you have a large guest list, you will need enough servers to ensure the meal process flows efficiently. You may need to hire additional servers.
How will the waitstaff be dressed? Wedding professionals should be dressed in a way that does not disrupt the flow of your special day.
What is the cleanup policy? Breakdown may not be included. Make sure you are aware of that ahead of time.
Will you be working any other events on the same day? If they are, this isn't necessarily a dealbreaker. However, you will want to ensure there is enough time between events for your wedding to receive the attention it deserves.
The Cost:
Can you provide a baseline cost estimate? By starting with a baseline, you can determine if this wedding caterer is within your price range. From there, ask how the price changes according to your selections.
If there is a bar, is the price based on a per person or per consumption rate? The two of these can vary widely, so ask to make sure you don't get any unwanted surprises on your wedding day.
What is the cost difference between options? The price differences between individually-served meals and a buffet may not be what you expect. Be sure to evaluate all possible prices.
What is your refund/cancellation policy? Even if you love the wedding caterer and you have no plans to cancel, it is always better to be prepared.
What are all of the fees that may possibly be incurred? Sometimes, wedding caterers will add on fees that were not in the initial contract (but they should have at least been discussed). Request a written list of potential fees for changes in scope, such as if the event runs over.
Is tip included? Tips are often not included. Your catering staff will be working hard at the wedding, and you will want to show them your appreciation.
What is your payment policy? Some wedding caterers require all of the payment up front, others request some along the way and at the event itself.
If your wedding catering company is professional and dedicated to outstanding service, they should have no problem answering any of these questions. For more details on catering in the Lowcountry, feel free to request more information from the wedding catering experts at Good Food Catering.