The Historic Rice Mill will host a happy hour on Thursday, September 28th starting at 5:30pm.
Tickets are $25 each and 100% of ticket sales will be donated to the American Heart Association. Join us for beer, wine, casual dining (we have tacos!), live music, networking, and a beautiful waterfront sunset over the Ashley River. Show your support as we help raise awareness and funds for the Lowcountry Heart Walk taking place on September 30th. Cheers to a healthy heart!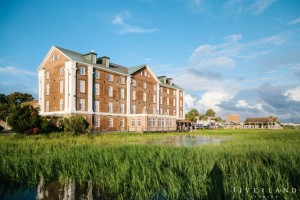 About the American Heart Association:
The American Heart Association is the nation's oldest and largest voluntary organization dedicated to fighting heart disease and stroke. Founded by six cardiologists in 1924, the organization now includes more than 22.5 million volunteers and supporters. The AHA funds innovative research, fights for stronger public health policies, and provides critical tools and information to save and improve lives.
The American Heart Association will hold its annual Lowcountry Heart Walk on Saturday, September 30th at Riverfront Park in North Charleston.  This year's Heart Walk Chair, Michael Bennett of Bennett Hospitality and Holy City Hospitality is encouraging the community to get involved. "This year, we are honored to support the American Heart Association's fight to end heart disease and stroke in our community," says Bennett. "Our hope is that the Lowcountry Heart Walk will jump start a culture of healthy living among participants and increase passion for supporting the lifesaving work of the American Heart Association."
About the Historic Rice Mill building:
Built in 1861, The Historic Rice Mill building is one of downtown Charleston's most spectacular waterfront venues featuring versatile indoor and outdoor event space. The Historic Rice Mill offers unparalleled sunset views over Charleston's own Ashley River and is the only of Charleston's three original antebellum rice mills that still stands today.