A conversation with Executive Chef Shane Whiddon (pictured below)
Keep reading to check out some of his favorite southern dishes, get the inside scoop about his exceptional southern cuisine menu at Virginia's on King, and learn one of his exclusive insider recipes!
Needless to say, Virginia's On King Executive Chef, Shane Whiddon, is a huge fan of Southern Cuisine. Recently he sat down to discuss some of his favorite recipes that make Virginia's On King one of the best restaurants for southern food in Charleston.
1. Fried Chicken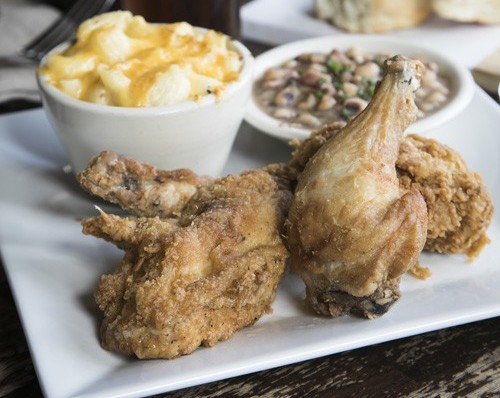 Chef Shane: "Our fried chicken is brined in hot sauce, our house blend of herbs and spices, and whey from the Charleston Artisan Cheesehouse. Our fried chicken is a dish that will continue to evolve as we try different types of birds and continue experimenting with the crispiness of our breading."
---
2. Market Fish
Chef Shane: "Our market fish is a signature Charleston dish. The crab rice we use as the base for the dish is a Charleston staple. When you pair the crab rice with the freshest local fish we can get our hands on you get a true representation of our philosophy at Virginia's."
---
3. Smoked Pork Chop (Smoked Pork Chop, Dirty Rice, Wilted Celery Leaves Pot Likker Jus)
Chef Shane: "Our pork chops are brined in an oaked whey brine and cold smoked. We then sear it and cook it to the desired temperature of our guests. We use Carolina gold rice for a traditional version of dirty rice. The pot likker jus is made by slowly reducing pot likker with onions, garlic, herbs, and our house smoked pork neck bones."
---
4. Strawberry Salad (strawberries from joseph fields)
Chef Shane: "Our seasonal salad uses the freshest local fruit and is accompanied by fresh lettuces, Battery Park Brie from the Charleston Artisan Cheesehouse, mint vinaigrette, candied pecans, and lemon zest. We are using strawberries until the local supply dries up. Upstate peaches will be what we use next. Upstate apples in the fall and winter."
---
5. Hoppin John
A conversation with Mrs. Virginia Bennett:
Tom Schiller, General Manager: "Virginia, what is your favorite Low Country meal or ingredient?"
Mrs. Virginia: "We would put rice in everything, okra soup, Hoppin John and beans. The reason being that it was cost friendly and would fill you up. Hoppin John is an important traditional southern dish for many reasons. One of which are the ingredients that go into making it. Carolina gold rice and black eyed peas are two crops grown in the Low Country that have been here for hundreds of years thanks to their ability to flourish in the hot and humid climate. The Hoppin John also resembles good luck and are often treasured around New Year's."
Chef Shane: "Black eyed peas were not commonly used as a food source for southerners until Tecumseh Sherman made his march to the sea during the American Civil War. Black eyed peas were usually reserved for feed for livestock. This is why Sherman didn't burn the fields of black eyed peas. Now they are part of our culture."
---
6. Oyster Biscuit
Chef Shane: "This is one of the most simple and direct dishes we have on the menu. That is exactly why it is one of my favorites. Our HUGE flakey biscuit, crispy fried oysters, caramelized onions, Tabasco hollandaise, and chives."
---
7. Black Eyed Peas With Cornbread and smoked neck bone

Chef Shane: "This dish is not on the menu but we are currently running it as a special. This dish is a very good example of true southern cuisine. The neck bones are brined and smoked in house. We then braise them in chicken stock, veal stock, carrots, and onions until tender. The tender neck bone is then served with black eyed peas and cornbread. It is then finished with the reduction of the braise and fresh herbs."
---
8. Nashville Hot Quail
Chef Shane: "Our Nashville hot quail uses a traditional sauce made with cayenne, our house blend of herbs and spices, and a bit of the oil we use to fry our chicken. The flavor of the oil imparts a very unique and satisfying note to the sauce. Like many of the items on our menu this dish pays homage to the food and traditions that have direct ties to Africa. Said food and traditions have truly shaped southern cuisine."
Shane's Recipe:
Brined Quail:
2 whole quail deboned
2 cups of buttermilk
1 tbls of Kosher salt
1 tsp of Seasoned salt
1 tsp of fresh ground black pepper
1/2 tsp of finely minced garlic
1 tsp Crystal Hot Sauce (or your favorite hot sauce)
Combine the ingredients with the exception of the quail and mix well.
Pour the brine over the quail and chill overnight.
Quail Breading:
4 cups all purpose flour
1 tbls Kosher salt
1 tsp Seasoned salt
1 tsp fresh ground pepper
1/2 tsp garlic powder
1/2 tsp onion powder
1/4 tsp rubbed sage
Combine the ingredients and place in a zip lock bag.
Frying the Quail
In a dutch oven heat 4 cups of peanut oil to 300 degrees F.
Place the brined quail in the breading bag and shake until the birds are coated well.
Gently lower the breaded birds in to the oil and cover the pot. (be very careful and do not let the oil get over 300 degrees)
Cook for about 6 minutes with the lid on.
Carefully remove the lid being sure to avoid dropping any condensation from the lid into the hot oil.
Cook uncovered until the quail has an internal temperature of 160 degrees F.
Place the fried birds on paper towels and keep in a warm spot.
Charleston Hot Sauce
6 tbls cayenne pepper
2 tbls dark brown sugar
1 tbls chili powder
1 tsp garlic powder
1 tsp paprika
1/2 tsp fresh ground pepper
1 tbls cane syrup
1 tsp seasoned salt
1 pinch of dried Carolina Reaper peppers (Use gloves and be careful! This pepper is HOT!)
1 cup of warm frying oil from the quail
Combine the ingredients to form the sauce.
Gently toss the fried birds in the the sauce and serve with Bread & Butter pickles and the bread of your choice.
Be sure to check out Shane's recommendations by making your reservations today!