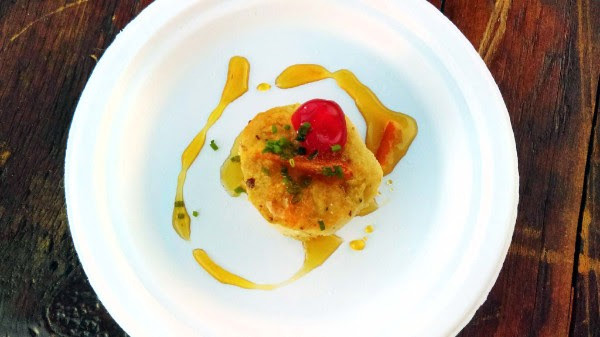 Did you catch us at the Bacon & Bourbon Event?
We gave a demonstration of one of our favorite Virginia's on King recipes, Bacon Buttermilk Biscuits with Manhattan Marmalade.  In case you missed us at the event (or saw us but can't get enough and want the recipe in writing), here's how you can make it at home.
Manhattan Marmalade: yields about 2 quarts
Ingredients:
3 navel oranges
1 3/4 cups fresh squeezed orange juice
1/2 cup fresh squeezed lemon juice
1/2 cup of your favorite bourbon
1/2 tsp of angostura bitters
3 pounds of sugar
5 cups of water
Method:
 Wash the oranges with hot water. Halve the oranges and slice them very thin.
 Combine the orange slices, orange juice, lemon juice, bourbon, bitters, and water and bring the solution to a boil. Reduce the solution to a simmer and cook until the orange peels are tender.
Stir in sugar and boil over medium high heat until the solution reaches 220 degrees on a candy thermometer. Test on a cold plate. the surface should wrinkle. If the marmalade is not set cook for 10 minutes and test again.
---
Bacon Buttermilk Biscuits: yields a baker's dozen
Ingredients:
2 cups of white lily AP flour
4 tsp of baking powder
1/4 tsp baking soda
3/4 tsp kosher salt
1/4 cup finely chopped chives
1/4 cup of finely chopped lightly rendered bacon
1 pinch of cayenne pepper
1/4 tsp black pepper
3 tbs chilled european style butter
2 tbs shortening
1 tbs bacon fat
1 cup chilled buttermilk
Combine for brushing:
3 tbs bacon fat
3 tbs melted butter
Method:
Preheat oven to 425 degrees. In a large mixing bowl, combine flour, baking powder, baking soda and salt. Using your fingertips, rub butter, bacon fat, and shortening into dry ingredients until mixture looks like coarse sand. (A food processor works well for this step as well). Add the bacon, chives, cayenne, and pepper. Make a well in the center and pour in the chilled buttermilk. Stir just until the dough comes together. The dough will be very sticky. Knead four or five turns while also making sure not to overwork the dough. Turn dough onto a surface coated with pan spray. Press into a 1-inch thick round. Spray the top with pan spray. Cut out biscuits with a 2-inch cutter, being sure to push straight down through the dough. Place biscuits on baking sheet so that they just touch. Reform scrap dough, working it as little as possible and continue cutting. Brush with the butter and bacon fat. Bake until biscuits are tall and light gold on top, 15 to 20 minutes. As soon as they come out of the oven brush them again. Garnish the biscuits with the marmalade and fresh chives. Add a maraschino cherry for garnish if you like.