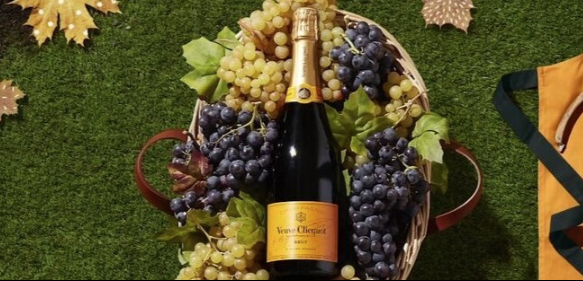 Calling attention to all the champagne connoisseurs throughout the Charleston, South Carolina area: 39 Rue De Jean has the perfect event for you this Thursday night. Rue has joined forces with Veuve Clicquot to give you an unforgettable evening filled with live music, tasty bites, and – of course – champagne pairings.
Veuve Clicquot has quite the reputation when it comes to great bubbly. Originally founded in 1772, this iconic champagne house is not only the creator of the first Vintage Champagne, but also one of the first producers of Rosé champagne–talk about making history.
Veuve pairings you can look forward to will include Vintage Blanc with Jamon au Beaurre (truffle butter crostini with Bayonne Ham), NV Rosé with Saffron Panisse (green olive tapenade), and a Demi-Sec paired with a Peach Pate de Fruit. All cuisine is selected by Executive Chef Justin Rambo-Garwood.
While immersing yourself in Downtown Charleston's eclectic surroundings and champagne towers, guests will also enjoy "music pairings" throughout the evening with a live DJ on 39 Rue De Jean's patio, so come prepared to break out your best dance moves.
If these champagne pairing selections have your taste buds watering and dancing shoes ready to go, you're not alone. Tickets are offered at $60 per person and come with a special gift reserved for ticket holders.
Mark your calendars for an unforgettable evening at Charleston's favorite French restaurant on October 24th at 6pm and grab your tickets before this event sells out!
Can't make it to our Clicquot Harvest this year? Don't fear, there will be plenty more events for French-inspired Southern cuisine this fall and winter. Never miss out on the fun at 39 Rue De Jean by following along with us on Facebook and subscribing to our newsletter.
Of course, we are always open for lunch and dinner Monday-Sunday. Take a look a look at our menu and make a reservation to get a taste of Charleston's best French cuisine!